I enjoy what I do and I'm extremely honored to have been recognized by these prestigious organizations.
REALTORS® Land Institute – Top Woman Land Broker in the Nation 2021
The Florida Gulfcoast Association of Commercial REALTORS® – Overall Commercial Real Estate Deal of the Year 2020, 2018, and 2014
The Florida Gulfcoast Association of Commercial REALTORS® – Tampa Bay's Land Deal of the Year Award Six Times
Tampa Bay Business Journal – Best Real Estate Deals, Community Impact Honoree 2021
GlobeSt.com – Women of Influence in Commercial Real Estate, "Woman to Watch" 2021
CREW Tampa Bay – Sales Transaction Excellence Finalist 2021
CREW Tampa Bay – Sales Transaction Excellence Award Winner 2016
Gulf Coast Business Review's – "40 Under 40"
Florida Real Estate Journal – "Top Woman in Florida Commercial Real Estate"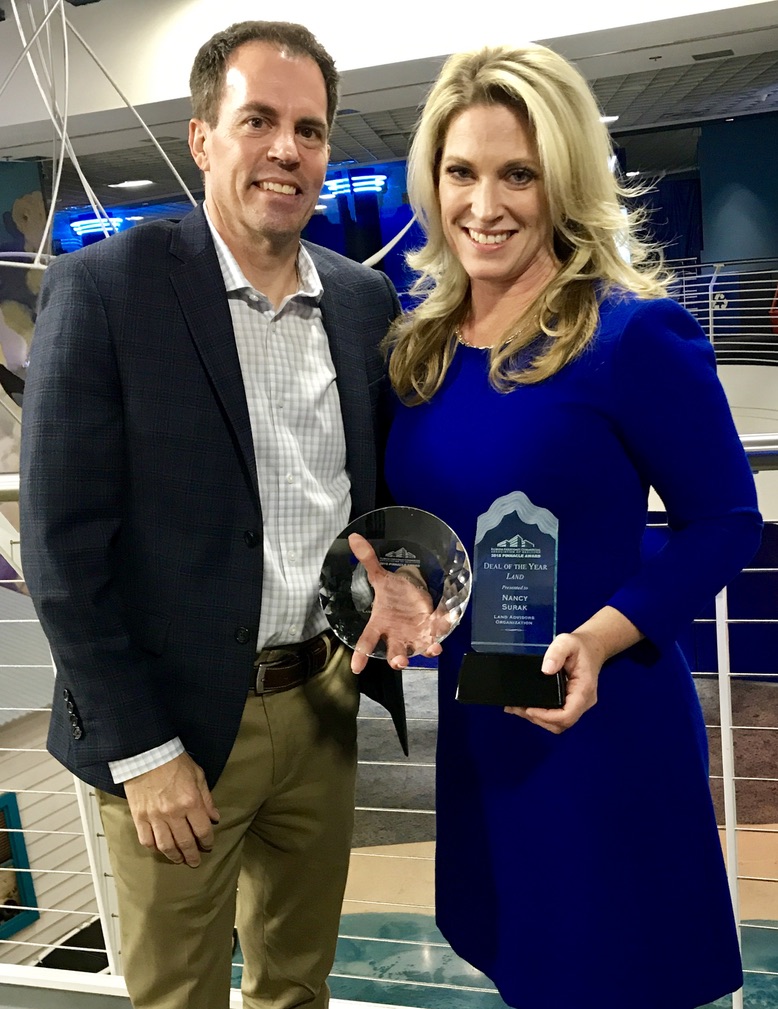 I've had the honor of working on significant land deals in the Tampa Bay market. Here are a few award winners that I'm extremely proud of.
Overall Commercial Real Estate Deal of the Year and Land Deal of the Year 2020 – Big Top of Tampa
Overall Commercial Real Estate Deal of the Year and Land Deal of the Year 2018 – Connerton MPC
CREW Excellence in a Sales Transaction Award 2016 – GSA Westshore Campus
Overall Commercial Real Estate Deal of the Year and Land Deal of the Year 2014 – Duval Park
Industrial Deal of the Year 2013 – 5804 Columbus Drive, Tampa
REALTORS® Land Institute ALC to ALC Deal of the Year 2011 – Talavera
7950 Park Blvd., Pinellas Park, FL CREW Tampa Bay Excellence in Sales Award
As a land broker, I don't get the opportunity to work on land deals like this every day, on deals that have such complex site issues, nor on land deals of this size in a technically built out county. This project is helping the entire City of Pinellas Park with much needed new housing as LIV Development is finalizing the construction of 349 multifamily apartments.
The total investment of the project is estimated to be over $70 million and the land deal was the largest on record for Pinellas County in 2020 at $9.3 million.
Connerton Master Planned Community Vacant Acreage, Land O Lakes, FL
2018 Tampa Bay's Land & Overall Commercial Real Estate Deal of the Year
Nancy Surak represented the owners, Pasco Residential Lots LLC and Pasco Investment Land LLC on sale of the remaining 1,557+ acres of land at the Connerton Master Planned Community in Land O Lakes, FL. The sale closed in mid-December 2018 for $26,543,246 and was purchased by Lennar Homes.
With an exceptionally strong sales pace and ongoing development, the acquisition presented an opportunity for Lennar to take over as master developer, finalized plans, and develop Connerton's remaining acreage. Surak provided confidential land advisory services for 2 years prior to the project being taken to the market. The project was marketed to homebuilders, developers, and capital equity groups nationally. Surak was recognized for providing superior brokerage services on the transaction. At the time of the sale, the closing represented the largest single transactional value of vacant land in Pasco County, FL.
GSA – Westshore Investment Property, Tampa, FL
2016 CREW Tampa Bay's Commercial Real Estate Excellence in Sales Transaction Award
Surak represented the ownership of the GSA Office Campus in the Westshore Business District in Tampa, FL. The sale completed in December 2015 included 3 office buildings totaling 37,127 SF on 4.38 acres. The deal was selected by CREW Tampa Bay for Excellence in a Sales Transaction for superior client service Surak provided to the two owners of the property who were both over 90 years old. Surak personally showed the property to over 40 prospective buyers and directly handled all client meetings in person. Since closing, Surak fondly refers to the sellers as her adoptive grandfathers and considers them extended family.
Duval Park – Wounded Warrior Housing Project, St. Petersburg, FL
2014 Tampa Bay's Land & Overall Commercial Real Estate Deal of the Year
Surak represented the ownership of Duval Park, a residential project proposed as a mixed income, gated community located in the center of Pinellas County. It consisted of 88 platted finished lots for a combination of single-family homes, townhomes and community amenity areas. It was listed for $2,200,000 and sold for $2,800,000.
Surak listed the property in April 2011, at the bottom of the market. Around this time, numerous banks were flooding the market with better-located, better-priced and better-designed finish lots at well below replacement values. Builders had just begun to purchase again, but they were ultra-selective and not interested in an infill development with this sort of product in this general neighborhood.
Today, Duval Park supports wounded veterans who have served and are transitioning out of VA medical care. It provides veterans with permanent residence, aid in finding employment and continued access to community services. It offers private apartments serving a broad range of veterans of all incomes with 40% of the units reserved for individuals and families at or below 60% of the area's median income. It also has strong support for female veterans and single parent families.
5804 East Columbus Drive, Tampa, FL
2013 Tampa Bay's Industrial Deal of the Year
Challenges seemed to plague this property, which required brokerage services well above normal. During the duration of the 23-month listing, Surak single handedly showed this 31,750 SF building over 100 times to buyers and brokers. She assisted the Tampa Police Department four separate times due to break-ins, discovered environmental monitoring wells unknown to the seller, an abandoned 18-wheeler left on site, and she managed crews hired to cleanup damage caused by a two separate summer storms and a malfunctioning lift station. None of these issues happened at the same time, they all occurred over the course of the listing.
This assignment was a Pandora's box listing in the sense that when Surak drove up or opened the door of the property, she found something else wrong that would need immediate attention.
Surak represented the seller, SunTrust REO and eventually sold the building in December 2013 to Puff 'n Stuff, an Orlando based Catering Company. Puff 'n Stuff invested an additional $3 million to renovate the building and opened operations in 2014 with over 50 full-time employees.
Talavera Project, Spring Hill, FL
2011 National REALTORS Land Institute ALC-to-ALC Deal of the Year
Nancy Surak, ALC, CCIM represented SunTrust Bank (CRM Florida Properties LLC) in 2010 on a 543.25± acre parcel of land, fully approved for residential development and known as Talavera. Located north of State Road 52, on U.S. Highway 41 in Spring Hill, Florida, the project had preliminary plan approval and permits for 756 single family homes and MPUD zoning offers approval for 800 homes. The property was listed for $4,725,000.
In 2010, when the project was listed, the residential market in Tampa Bay, FL had seen a steep decline since the 2005 high, with some areas declining in value by as much as 90%. Land development for new residential communities had basically come to a stop across the state. After months of marketing the project, it went under contract to a buyer who was represented by another ALC. In 2011, this transaction was recognized nationally by the REALTORS® Land Institute for largest sales transaction and acreage size in the State of Florida sold by two Accredited Land Consultants. The deal closed in less than 30 days.
Hillcrest Preserve Project San Antonio, FL
2009 Tampa Bay's Land Deal of the Year
Surak, represented Standard Pacific Homes on the sale of an approved and fully vested residential community development named Hillcrest Preserve. The proposed development consisted of 1,344 Lots located north of State Road 52, west of Interstate 75 in San Antonio, Pasco County, FL. Surak worked on the assignment for 2 years and closed the deal in August 2009 for $11,500,000. During the assignment, Surak personally attended dozens of entitlement meetings with engineering and land planning consultants as well as public hearings. She also
managed a nationwide marketing program that lasted the duration of the listing term and included personal phone calls to key prospects, email campaigns, and private tours of the property.